This page is about admissions to our preschool program, which is open now for the 2024–2025 school year for children born on or before September 1, 2022. Our Playgroup for younger children requires a simple registration form, and our Summer Camp is offered only to our enrolled students. If you want to apply for the sibling of a child who has attended any program at IPS, or if you are interested in mid-year enrollment, please contact the director of admissions before proceeding.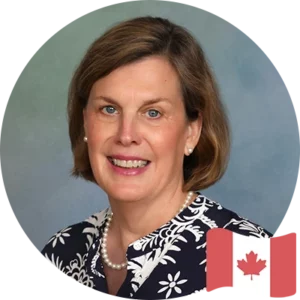 Dear parents and guardians,
Thank you so much for considering The International Preschools (IPS) for your child's education! I'd be delighted to answer any questions about our school or admissions process, so please do not hesitate to email or call me.
With best wishes for finding great schools (like IPS!) for your child, now and in the future,
Martha Smeaton
Director of Admissions
+1.212.371.8604 extension 1112
[email protected]
The Process and Schedule in Brief
Our preschool admissions process comprises the following steps, which are detailed further below:
Application Form (beginning August 1, 2023)
Parent Tour (mid-October 2023 through February 2024)
Getting To Know Your Child (January and February 2024)
Admission decisions emailed (February 29, 2024)
Contract and deposit returned (March 7, 2024)
Optionally, open houses and an online parent-to-parent panel discussion are available to applicants.
Need-based financial aid is available.
We are happy to consider applications at other times of the year and mid-year enrollment, especially for families moving to New York from other states and countries. Please contact the director of admissions.
The Process in Detail
Step 1: Application Form and Fee (or Fee Waiver)
Please submit your application form with payment of the application fee ($75 per child). If you will be seeking financial aid from IPS, please contact us before you begin the application form. Applicants for financial aid will receive a fee waiver code to let them submit the application form without payment.
Step 2: Parent Tour
After you complete Step 1, the director of admissions will contact you to set up your Parent Tour. Learn more about Parent Tours.
Step 3: Getting To Know Your Child
(A) Please make and send us a 3-minute video of your child by following these instructions. Submissions will be accepted from January 8 through January 19, 2024.
(B) Please bring your child to IPS for an in-person observational playdate on Friday, February 16, 2024, between 9:00 AM and 12:00 noon. A specific time will be scheduled with you closer to that date.
(C) If your child is currently enrolled in another preschool or day care program, IPS requires an ISAAGNY report (download PDF form) completed by the child's current teacher and submitted to IPS no later than January 31, 2024. We ask parents to arrange this and for reports to be emailed by the other school directly to [email protected].
Step 4: Decision Letter
Decision letters will be emailed no earlier than 10:00 AM Eastern Time on February 29, 2024, according to the dates established by the Independent Schools Admissions Association of Greater New York (ISAAGNY).
Step 5: Contract and Deposit
Parents who accept admission must return a signed contract with a non-refundable deposit by 12:00 noon on March 7, 2024.  The non-refundable deposit will be credited towards tuition.
Optional Information Sessions
After you apply (Step 1, above), you will be invited to an open house at the school and an online parent-to-parent Q&A session. Learn about these events.
You will also begin receiving a monthly newsletter from Director Alyssa Wisoff after you apply.
Equal Opportunity
The International Preschools admits children of any race, color, national, and ethnic origin to all the rights, privileges, programs, and activities generally made available to students at the school. It does not discriminate on the basis of race, color, national, or ethnic origin, religion or disability in administration of its educational policies, scholarships and loan programs, athletic and other school-administered programs.