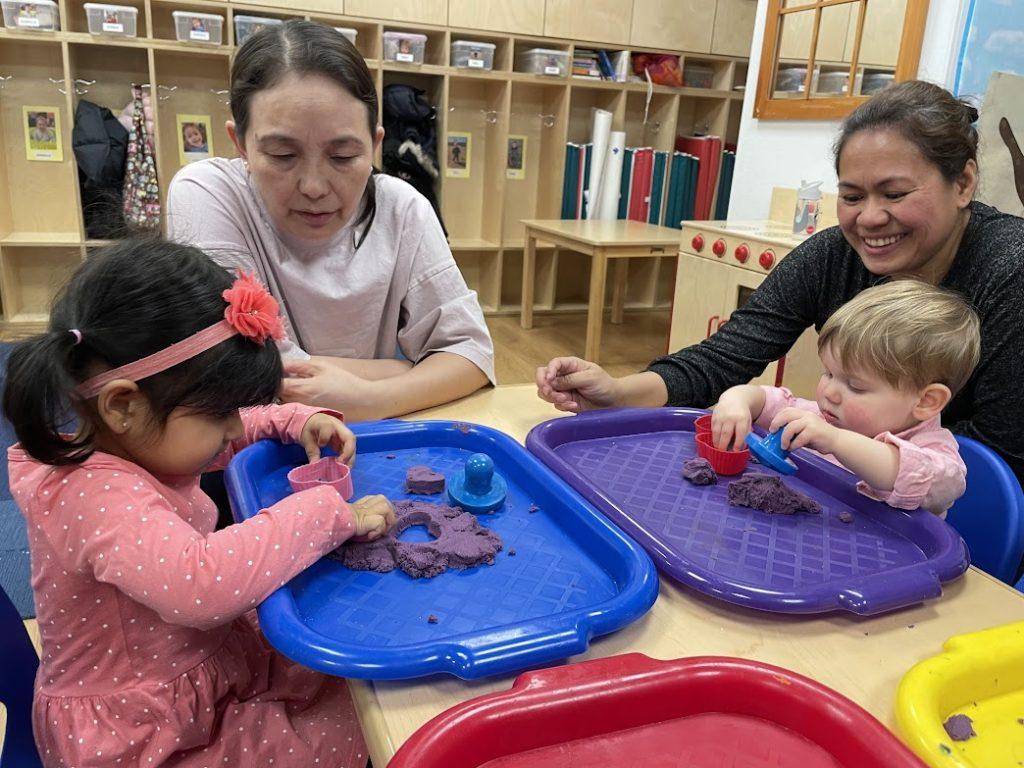 Parents across the Upper East Side and Manhattan are in the midst of finding the best preschool in New York City for their families.  This can be an overwhelming process as it is one of the first big choices you are making in your child's educational career.  As you scour the internet and ask your friends for recommendations, there are certain elements to consider when finding the right fit for your family.
Location in the Upper East Site
The International Preschools is conveniently located in the heart of the Upper East Side of Manhattan at 345 East 86th Street. The school is conveniently located near the Q, 4, 5, and 6 trains and the First/Second Avenue Select Bus, making it easily accessible for families in the area. Spanning over 7,500 square feet, IPS is on the ground floor and has direct access to a dedicated outdoor playspace. Our location makes us one of the best Upper East Side preschools for families.
Play-Based Learning Philosophy
IPS follows a play-based learning philosophy for preschool. We believe that children learn naturally through their experiences and when engaged in the materials around them. They understand their world through hands-on, sensory-based experiences that allow them to make meaning of both the familiar and the new. These experiences help young children grow into older children and adults who have open-minded, nuanced views of the world.
The play that occurs at IPS is intentional and guided by the teachers. Through their play, children develop important social-emotional, language, and academic skills. Each year the children build on the skills they have learned and are more than prepared to enter Kindergarten as strong and confident learners.
An Active Preschool Community with Parent Involvement
Since preschool is often a families first foray into their child's schooling, it is important to find a community that mimics your set of values. As your children become more social you will find your own social lives revolving around their social lives. Weekends are consumed with birthday parties, playdates and activities. Your preschool community will become your extended social circle.
At IPS we encourage parents to engage with each other and form friendships that will last well beyond their preschool years. We have a strong Parents Association that works with the school administration to organize events throughout the year. Many of our families are not from the Upper East Side and find that IPS becomes their family away from home.
Exceptional Teacher Qualifications and Small Pre-K Class Sizes
Preschools across New York City and the Upper East Side are governed by the New York City Department of Health and Mental Hygiene. There are specific guidelines that must be followed regarding teacher qualifications and class size.
Meeting a minimum requirement is not sufficient at The International Preschools. To be one of the best private preschools in NYC our head teachers all have a Masters degree and many years of experience in early childhood education. Our assistant teachers are mentored by head teachers and assist in the planning of curriculum and activities. The average tenure of IPS teachers is over 10 years and the average teaching experience is over 15 years.
The average class size at IPS is 10-12 children in the 2s program, 12-15 students in the 3s, and 12-15 in the 4s/5s. There are two or three teachers in each class depending on the size.
Embracing Global Diversity in Preschool: Celebrating Multiculturalism at IPS
The makeup of the student body might not be the first thing you think about as you are looking for a preschool, but at IPS we emphasize the importance of the classroom representing the diversity of New York City. Our students and families come from diverse backgrounds, with some parents moving to the Upper East Side from other parts of the world.
Multiculturalism is a cornerstone of celebrations at IPS. Families are invited to join us in late October for UN Day, a celebration of the birth of the United Nations. For UN Day, we celebrate with an international sing-along and multicultural potluck snack. We encourage families to wear traditional clothing from their cultures. In mid-December, we come together as a community to celebrate the winter solstice with a sing-along that includes songs in different languages about light and festivals of light. We have a variety of additional cultural celebrations throughout the year that we celebrate as a school, including Diwali and Lunar New Year.
Flexible Scheduling Options: Tailoring Education to Family Needs
The school schedule is probably the first thing you look at when visiting a preschool's website. It is important to choose a school with flexible schedules that meet the needs of your family. At The International Preschools we offer half day (9:00 AM to 12:00 PM) and full day (9:00 AM to 3:00 PM) options for the 2s and 3s programs and a full day day (9:00 AM to 3:00 PM) for the 4s/5s. In addition we have Early Drop-off each morning beginning at 8:00 AM and after school programs from 3:00 PM to 4:00 PM. We hope to offer an extended day beginning in September 2024 that runs from 8:00 AM to 6:00 PM.
Expanding Horizons with Comprehensive Preschool Enrichment Programs
In addition to the schedule of a preschool program, it is important to learn how schools enrich their curriculum. The International Preschools incorporates specialty classes into the children's day, including library, music, creative movement, technology and Upper East Side favorite Art Farm. These classes extend the play-based curriculum from the classroom, allowing the children to explore the themes through other creative activities. Additionally, IPS offers additional enrichment classes from 3:00 to 4:00 PM ranging from multisport fitness classes with HappyFit to performing arts classes with TADA! Theater to art classes focusing on different mediums.
Leading Early Education on the Upper East Side: Why IPS is the Best Preschool in NYC
The International Preschools (IPS) stands out as a premier choice for families seeking the best preschool in the Upper East Side and throughout New York City. Its central location, combined with a robust play-based learning philosophy, offers a unique and enriching educational experience for young learners. The school's commitment to diversity, cultural celebrations, and community involvement fosters a nurturing environment that extends beyond academic learning. IPS's highly qualified teachers, small class sizes, and flexible scheduling options cater to the individual needs of each family, ensuring a personalized approach to early childhood education. Additionally, the variety of enrichment programs available enriches the curriculum, allowing children to explore and grow in a dynamic and supportive setting. Overall, The International Preschools embodies the essence of the best preschool in NYC, providing an exceptional foundation for the educational journey of its students.
Are you a parent in NYC looking to apply for preschool? Here's How To Apply to IPS