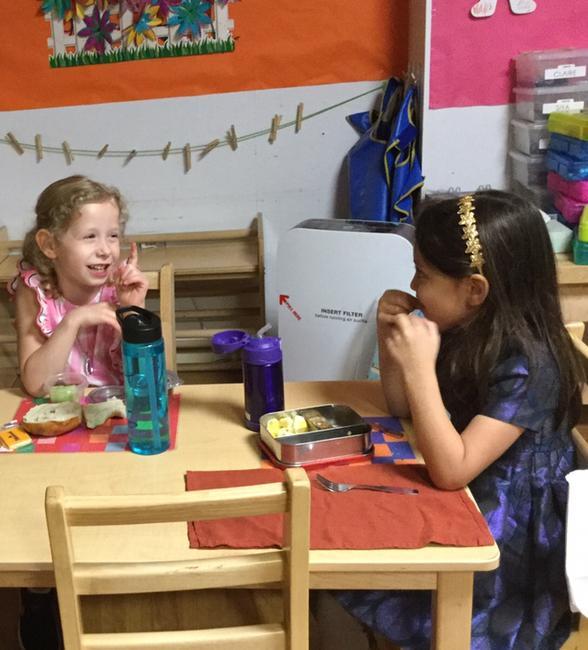 For many parents, this September will mark the first time that their child will attend a full day of preschool. With that comes the nightly (or for some, morning) routine of preparing your child's lunch.
It's not an easy thing. After all, toddlers and preschoolers are notoriously picky and fickle about what they eat. Some days, a cheese sandwich is perfect. Other days, a cheese sandwich will be greeted with a resounding NO from your child.
I'm currently going through the lunchtime process with my second child and, having been an early childhood educator for more than 20 years now, have also witnessed firsthand what works and what doesn't. Here are some tips and ideas to help make your child (and your!) first experience with lunch-at-school a happy one:
Stick with what he/she knows. Be sure that your child's lunch contains mostly items that he/she has eaten before and enjoys. Let dinnertime be the place where new foods can be tasted and evaluated. Then, new foods that are given the thumbs-up can be included in future lunches.
Give variety. Including a variety of foods from many food groups (protein, grains, fruits, vegetables, dairy, healthy fats) ensures that your child will eat something (even if he/she doesn't eat everything). And on that note…
Pay attention to portion sizes. I've seen many well-meaning parents (myself included!) pack lunches with large portion sizes that don't get eaten. It's not that your child can't/won't eat that much…it's more that having lots of baggies and containers with large amounts of food in them can be visually overwhelming. As a result, some children will just avoid the food altogether. Case in point: I have given my five-year-old the same types of food for lunch packed in a bento box (if you haven't gotten one for your child already, look into it – they are awesome!) with small portions, and the same food in a variety of containers. She almost always eats all of the food in the bento box, but when the food is in larger containers, she leaves a lot of it behind.
Make it visually appealing! Visual aspects are sometimes as vital to kids eating their lunch as the actual food. If you're crafty, and up for the challenge, click here for some cute lunchtime (or dinnertime) ideas.
Next week's blog will touch on the skills that kids learn from having snack and lunch together at school…and they aren't just food-related!
Interested in joining the IPS community? Visit our website by clicking here.